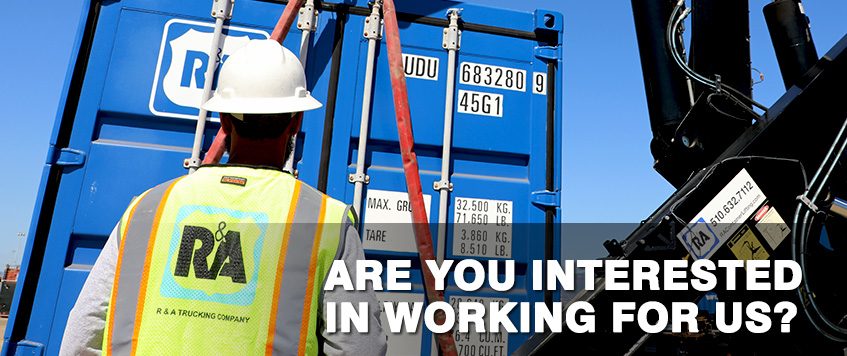 CAREERS
We are more than just a trucking company. We do it all.
If you are looking to be a part of a family that loves what they do, a company that takes pride and ownership, a company that looks out for theirs then R&A Trucking Co. is it.
OPEN POSITIONS
Job Description
Excellent Opportunity for Class A Driver

R&A Trucking Co. is an established, stable firm with a history of success.

R&A Trucking Co. is looking for Truck driver with a Class A license. This is a full-time position with all deliveries being completed daily. Driver will be required to secure the freight and be able to get up and down from trailers. This position will require a driver that is safety conscience and has the ability to solve problems and follow procedures. The Freight being transported requires a specific way to be loaded and secured. Contact with professional customers will also be required. Driver will be trained on our procedures. Forklift experience is also a plus.


The truck driver must have the following qualifications.
2 years driving experience. ((Verifiable Flat Bed experience preferred))
Clean driving record and current medical card
Current Class A license. // Must Have TWIC CARD
Good Communication Skills.
Must be able to handle Electronic logs and vehicle inspections.
R&A Trucking Co. also offers paid vacations, medical, vision and dental insurance, R&A Trucking offers a friendly work environment with employees committed to customer service.

If you feel you are qualified to join our team that has been committed to quality products and service for the past 47 years, I eagerly await hearing from you.

Job Location: Oakland

R&A Trucking Co.

Available Immediately FT

Job Type: Full-time

Salary: $30.00 to $38.00 /hour

*Click the button to learn more and apply for the position.
Learn More